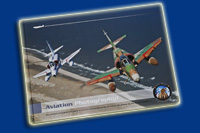 Aviation Photograhpy!
The ultimate aviation
photobook!
Shop
During the years the Aviation PhotoCrew has produced several publications which included their high-quality photography. Here you can find a selection of items we still have in our shelves.
Aviation Photography! Book

---

You are an aviation enthousiast and go to airshows, airports, museums or spottersdays to make photographs of aircraft? Then this book is something for you! A team of international photographers (Belgium, UK, the Netherlands, Japan, India, Finland, South Africa, Germany and many more) have teamed up to bring their best shots and give you usefull tips & tricks for photographing aircraft! "Aviation Photography !" is a hardcover book bringing the very best work of photographers from all around the world.
More info

only €35!
Air-to-Air Calendar 2018

---

The ultimate Air-to-Air Photography Calendar 2018 is out now. Twelve of the best Aviation PhotCrew photographs were selected and printed on high-quality paper with a glossy finish. The extra-large format calendar will shine bright on your office wall or at home. It is an ideal present which lasts a year!
More info

only £10!
Aviation PhotoCrew Merchandise

---

The Aviation PhotoCrew has teamed up with Aviation-In-Action to produce a range of high-quality merchandise. Click on the link below to visit the shop.
Aviation In Action website