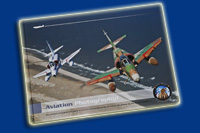 Aviation Photograhpy!
The ultimate aviation
photobook!
Wittmund Air Base in Northern Germany is home of the famous Taktisches Lufftwaffengeschwader 71 "Richthofen" Squadron. Since the retirement of the F-4 Phantoms in 2013, the Squadron successfully transitioned to the Eurofighter. The base also houses a detachment of Discovery Air Defence, a company specialized in providing military training services. They operate a fleet of seven A-4N Skyhawks contracted to the German Air Force, Army and Navy.