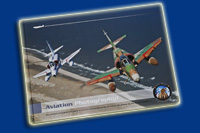 Aviation Photograhpy!
The ultimate aviation
photobook!
In celebration of the 50th anniversary of the USAF, the Heritage Flight program was founded in 1997. The USAF Heritage Flight Program features modern fighter aircraft flying alongside World War II, Korean and Vietnam-era aircraft in a dynamic display of the nation's airpower history. In 2010, the USAF Heritage Flight Foundation, a non-profit organization, was formed to keep this popular program flying.

The USAF Heritage Flight Foundation provides 40–60 annual demonstrations at events ranging from open houses and airshows to sporting events, parades and funerals. Heritage Flights seek to honor the contributions of every man and woman who has served in the USAF while educating the general public on the importance of the USAF and its mission.

The Heritage Flight team currently consists of nine civilian pilots qualified to fly vintage warbirds in formation with modern USAF single-ship demonstration teams. A new addition joining the 2016 Heritage Flight Team is the F-35A Lightning II, provided by the 61st Fighter Squadron at Luke AFB. The F-16 Fighting Falcon and the F-22 Raptor join the team of modern aircraft next to the P-51 Mustang, P-40 Warhawk, P-38 Lightning, P-47 Thunderbolt and F-86 Sabre warbirds.
The 2016 Heritage Flight Training and Certification Course took place at Davis-Monthan AFB in Tucson (Arizona), March 3-6. The qualification course provides the civilian and military pilots the opportunity to safely fly in formation to prepare for their upcoming airshow season. Starting with a classroom session on day one, the remaining three days are spent flying, commencing with two and three ship formations and ending with more complex four ship formations.

During the 2016 summer season, it will be a unique occasion to see the USAF Heritage Flight demonstration in Europe. The USAF is planning to participate the Air Tattoo at Fairford and the Farnborough airshow with both the F-35 Lightning II and the F-22 Raptor.

We would like to thank Lt. Sydney Smith, TSgt Courtney Richardson and the rest of the 355th FW Public Affairs team for their hospitality and assistance during the 2016 Heritage Flight Training and Certification Course.