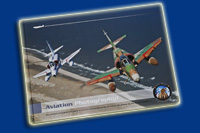 Aviation Photograhpy!
The ultimate aviation
photobook!
In 2016 the 31 "Tiger" Squadron of the Belgian Air Force celebrated its 65th anniversary with a striking paint scheme on one of its F-16 Jets. Designed by Peter Verheyen & Johan Wolfs and painted at the Kleine-Brogel Paint Shop, "Skull & Bones" was chosen as theme. F-16AM FA-77 rolled out for its first flight on April 22, piloted by the 31 Squadron Commanding Officer "Kuntu".


As the oldest surviving member of the NATO Tiger Association, 31 Squadron participated the NATO Tigermeet, which took place May 16-27 at Zaragoza AB, Spain. The Squadron took part in full force with no less than 8 F-16s, keeping the Tiger spirit high. For the 9th time in the history of the NATO Tigermeet, the BAF 31 Squadron were honored the Silver Tiger Trophy.