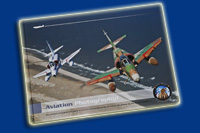 Aviation Photograhpy!
The ultimate aviation
photobook!
It's always fun going to an edition of 'Flying and Friendship' no matter how little it is. In september Gérard and Nicole organised the event at the very enchanting cozy little airfield of Theux, located in the Belgian Ardennes. The atmosphere was relaxing as it always is, with a dozen aircraft attending. Friends and flying, what more do you want on a weekend?
Hanno took me up in the T-6 for a photoflight with the Stinson Reliant, the sole flying example in Europe. Remko Sijben flies this aircraft, he has a real passion for everything from the 1940 - 1945 period. We flew to the nearby lake to have a very nice backdrop, and upon return to the airfield I was lucky as the sun came trough the dark clouds. Most lucky however I was with the barbecue, 'Ardennes style' that was truly the best barbecue I had in years!!!