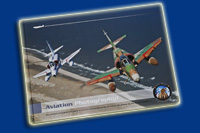 Aviation Photograhpy!
The ultimate aviation
photobook!
In october I spend a very enjoyable afternoon at the flying club 'Zwartberg', located in the province of Limburg, Belgium. The weather was just wonderfull to celebrate their 50th anniversary! The first photoflight was to capture the formation of their homebased Cessna's, taken from the PC-7 photoship flown by Luc Thijs. Not so easy, as the PC-7 is actually a fast machine when you compare it to a Cessna. Luc did a great job of course and the result you can see here.
Our second run was another magnificent flight, this time to get the PC-7 in formation with the PC-12. That's a formation you will not see every day, and since the weather was outstanding for photography my photopilot Luc Hellings took the formation over the clouds. A big congratulations to Zwartberg Airclub for their 50th anniversary and many thanks to Peter 'Patja' Stams, Luc Hellings and Luc Thijs for this opportunity to catch their birds.