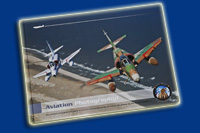 Aviation Photograhpy!
The ultimate aviation
photobook!
Among the many Fly-ins in Europe, the Schaffen Fly-in is known as one of the biggest gatherings of oldtimers, vintage aircraft and warbirds in Europe. This years editions had 302! participants. You will not see that many pictures here, as it was a weekend for me full of fun with the Yakkes crew. We first flew a nice airborne session with the newly restored Stearman 'Old Crow'. In daily life Hans Nordsiek is a Boeing 777 captain, but he is most likely better known as 'The Storyteller'.
And what can you do when all your friends are there....? Fly with them and take photos, that's the biggest fun I can have! We tried to fly a few formations and for once this year the weather was reasonable, so only happy faces this time. All the 4 Yakes airplanes were present so I had the opportunity to capture them in various positions. Of course the infamous/famous/notorious 'low pass' over the airfield could not be missed.