In the 2016 season we spend a fantastic day at the famous airbase in North Germany, with the aim to see the iconic A-4 Skyhawk flying a formation with the Eurofighter. After two successful flights we promised to come back, and so our 2018 season opened with another project at Wittmund. This time the mood was a bit different, a mixture between sad and super excited as we knew that this would be thé final chance ever to see the A-4 Skyhawks flying in European airspace. The company operation those classic birds, Top Aces Inc, will transition to more modern jets fairly soon, so we hoped to get the winning lottery ticket for our final photoflights with them. And we did win…big time, because we got not one but TWO flying Skyhawks taking part in our first photomission. To make the cake even more sweet, two Eurofighters participated as well and of course it was another big smile to see the special red tail from the Richthofen squadron showing up.
Just like in 2016, the weather was not fully on our side, but with a join-up time of a full hour who was gonna complain! We were fortunate to see several formations flown for all the photographers onboard, and we made supergood use of the brand new windows in the Skyvan photoship providing us with a formidable 300 + degree photo angle. The highlight of the flight was the 4-ship formations, a sight that never will be seen again…. And getting 2 Skyhawks in close formation with the photoship…whoow woow wow!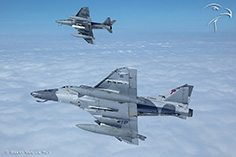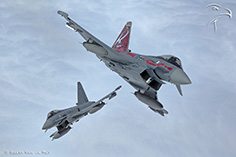 In the afternoon we had another photoflight with the two Eurofighters, and once again we had big fun high above the clouds. We left Wittmund airbase fully satisfied, and the next time we will be here another type of jet will fly in the aggressor role….who knows what surprises will await us ;)
Our special thanks for this project goes to Rich Cooper from COAP, who did once again all the contacts and little evil beautiful flightplan!