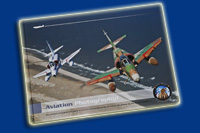 Aviation Photograhpy!
The ultimate aviation
photobook!
Kleine-Brogel is one of two home bases of the F-16 fleet of the Belgian Air Force. It houses two operational Squadrons (31 and 349 Sqn) and the Operational Conversion Unit. Currently four F-16's wear a special color-scheme, one for each Squadron plus the F-16 demo aircraft. Like most of the specially colored aircraft in recent years, the creations were realized by Johan Wolfs and Peter Verheyen, together with the KB Paintshop, which did an incredible job!
The Belgian Air Force was one of the first four international customers for the F-16 Fighting Falcon. Belgium ordered a total of 160 F-16s in two batches. Heavy attrition and restructuring of the armed forces reduced the operational inventory to 54 aircraft. All operational F-16's were upgraded to MLU standard (Mid Life Update), which today still makes it a very capable platform.
The F-16's are tasked to defend the skies over the Belgian territory. At all times two F-16's are on QRA (Quick Reaction Alert) stand-by, for any violation of the Belgian airspace. The Belgian Air Force also deployed abroad during foreign conflicts such as in Irak, Afghanistan and Lybia. With the three Baltic republics - Latvia, Lithuania and Estonia - becoming members of NATO in 2004 they asked NATO for air coverage. Belgian F-16's have been regularly deployed in the region to defend the Baltic skies.

The F-16 Solo Display Team has been a well known ambassador of the Belgian Air Force throughout the world. For the seasons of 2015-2017 the responsibility was handed over to Kleine-Brogel. The Team is comprised of personnel from both resident units being 31 and 349 squadrons, with Cdt. Tom "Gizmo" De Moortel as display pilot. The aircraft received an impressing three-tone gray/black/white color-scheme called 'Blizzard'.

Hereby we would like to thank all participating pilots, crew, personell of Kleine Brogel, the Sanicole Airshow and the Belgian Air Force for providing such great cooperation making these photoshoots possible.